The Standard Deviations are two diversity-embracing gals who sing highly original songs which have been compared to those of Joan Armatrading, Leonard Cohen, Kirsty McColl, Spike Milligan and Joe Jackson! Their current line-up comprises Vicki Bennett and Mary Heath
A Brief History
The Standard Deviations were born in 2003 with the recording and release of Belle Curve. This was envisioned by Vicki and brought together the talents of many of her favourite musicians, singers and friends including Lesley Parton, Andrea Rieniets, Mel Watson, Mary-Lynn Griffith and acapella group Dressed For Doreen..
Following the release of the record, the urge to perform became irresistible and the first live incarnation of The Standard Deviations hit the main stage of a crowded Governor Hindmarsh back room for the CD launch.
Gig followed gig, with the line-up varying according to needs of the occasion and available personnel!
Songwriter Vicki on keys and harmonies remained the only true constant
2005 brought the release of our second CD, produced by Quentin and imaginatively titled "The Standard Deviations" . At this time, everything seemed to rise to a new level...sold out gigs, interstate festivals, great reviews, international airplay and even some awards!
It also generated some wonderful new opportunities to run workshops where we are able combine our songs with our personal/political passions and with the areas of expertise from our professional backgrounds.
Past and Present Personnel
Flick Rasheed (the only member of The Standard Deviations to feature in the Australain edition of The Who's Who of Rock and Roll) stayed for 18 months and then went off to birth beautiful twins! The raunchy, bluesy-voiced Sue Galbraith was a core member for 2 years, but eventually was lured to Melbourne for love. Jen Lindon moved to Canberra, for love *and* work.
Amongst all these departures were some wonderful arrivals!
Mary Heath (political activist, committed cyclist, fast sewer, slow knitted, baker of exceptional cakes) joined in 2004, initially as harmony vocalist . She has now made the lead singer role her own and is forging a songwriting partnership with Vicki
Miranda Bradley (Raw Honey, ex-Fruit, terrific songwriter, exquisite guitarist, endearing blusher) joined us for our 2006 interstate tour and then joined the band! In 2008 she has followed the well-worn path from The Standard Deviations to falling in love with some one living a long way away! Although this has resulted in her moving from Adelaide to Canberra, she hopes to join us on future performance and recording projects whenever this is possible.
Quentin Eyers has added multi--instrumental magic when we have been able to fit extra guitar, bass, flugel horn, trumpet, saxophone and percussion on stage (and we haven't even tried to ask him to play his first instrument, the drum kit, yet!)
The Future
In March 2008 we started recording some new songs, with Somersaults due to be released on the forthcoming SCALA CD and Time To Delight being released on 17th May as a free download to celebrate International day Against Homophobia.
We are excited about the future of The Standard Deviations.
We hope you can be part of it whether by singing along at a gigs, buying CD's for friends, forwarding our mailouts, requesting our songs be played on your local radio station or, if you're really keen, helping organise gigs and workshops in your area. Your emails about any of the above or more are warmly welcome!
" The Standard Deviations were the final act and concluded each song to rapturous sustained applause. As a songwriter, I was humbled by effervescent Vicki's undoubted songwriting class."- Songwriters, Composers and Lyricists Association live review, July 2004.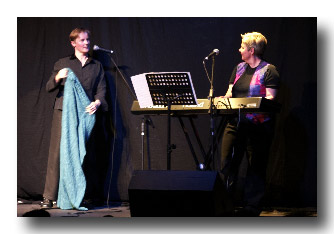 Conference performances including:
September 2006 International Society for Equity in Health international conference dinner show, Ayers House, Adelaide
Sept 2005 ALMA conference performance, Carclew, Adelaide.
Jan 2005 Health in Difference 5 Conference, Telstra Dome, Melbourne.

Indoor festival performances including:
November 2006 Women Performing Encore, Fowlers Live, Adelaide: SOLD OUT,
September 2006 Semaphore Music Festival, Semaphore Hotel, Adelaide.
November 2005 Headline Act for Women Performing, Fowlers Live, Adelaide: SOLD OUT
February 2004 Adelaide Fringe Festival gig at The Folk Club, Adelaide
Nov 2003 Fuse Festival After-Fuse Party at the Jive Bar, Adelaide

Large outdoor festival performances including:
November 2006 Feast "Fate", Old Noarlunga, Adelaide
April 2006 Girlfest, Royal Pines Golf Course, Gold Coast. Qld.
Nov 2007, 2006, 2005 Noarlunga Feast Fete, Old Noarlunga. SA.
Nov 2003 Picnic in the Park at Rymill Park, Adelaide
Nov 2003 Feast Festival Opening Night Party at Festival Theatre, Adelaide

Large pub gigs including:
October 2006 Dinner Show at The Orange Grove Hotel, Sydney. SOLD OUT
July 2005 Melbourne CD launch and dinner show at The Big House, Melbourne: SOLD OUT
June 2005 CD launch of self-titled album at Governor Hindmarsh Hotel Main Back Room
2003-2005 several gigs at the Governor Hindmarsh Hotel main back room, Adelaide
Aug 2003 CD launch "Belle Curve" at Governor Hindmarsh Hotel Main Back Room

Intimate Pub Gigs including:
October 2006 Dinner Show at Don't Tell Tom, Brunswick, Melbourne
2003-2007 recurrent gigs at The Directors Hotel, Adelaide and The Joiners Arms Hotel, Thebarton
Feb 2006 The Edinburgh Castle Hotel, Adelaide
Feb 2004 supporting Qld band Mettaphor at The Jive Bar, Adelaide

Community Events including:
October 2006 Dinner/Quiz Night/Show with Diversity, Shepparton, Victoria.
April 2006 Trade Union Choir Fundraiser, Waterside Workers Club, Port Adelaide.
Feb 2006 Launch of Let's Get Equal Campaign, Mercury Cinema, SA
Sept 2005 Women's Studies Resource Centre 30th anniversary ceremony, SA.

Facilitation of Music/Health Workshops and Lectures including:
May 2006 Queer Culture and Health, Medical School, Flinders University, SA
Mar 2006 Songs of sexual ethics and respect; Law School, Flinders University, SA.
Nov 2005 Song feedback: giving it thoughtfully, using it wisely Songwriters Composers and Lyricists Association
July 2005 Being playful with melody and chords, Songwriters Composers and Lyricists Association
Jan 2005 Being Out in Rural and Remote Heath, Telstra Dome, Melbourne