STOP PRESS MAY 2008: CD SPECIALS

Our self-titled CD The Standard Deviations, which sold out in 2007, has just been re-released.

To celebrate, we have reduced the price of both of our CD's!!!

But that's not all!!

Purchase any number of either CD during May or June 2008 and we will cover the cost of Postage and Handling.
*and* personally sign it.

Total price of Belle Curve including P+H will be $15
Total Price of The Standard Deviations will be $20.

You will need to contact us direct via email or mobile to secure this special deal.

Please also note that The Standard Deviations are currently changing the way we sell digital downloads of our music.
While we organise new arrangements, you will not be able to purchase our songs through CDBaby nor through digital outlets such as itunes.
We sincerely apologise for any inconvenience, and we hope to be able to offer track downloads from our own site very soon.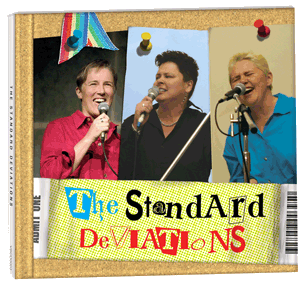 MAIL ORDER SPECIAL FOR MAY/JUNE

The Standard Deviations self-titled CD
$20 Each Including Postage and Handlingc
Please contact us directly with your order

Tracks include:
1. Dressing For You 2. Willing 3. Room For us All
4. Invitation 5. Salt 6.The Grieving Song 7. Please don't call 8. This Regret 9. Accolades 10. Belonging
The Standard Deviations. (self titled CD)

"A world class CD has arrived from the Adelaide songwriting scene. If ever a CD had the Zen concept of 'quality' extolled by American author, Robert Pirsig, in his famous philosophy book, "Zen and the Art of Motorcycle Maintenance", this is it."

SCALA News # 102, June 2005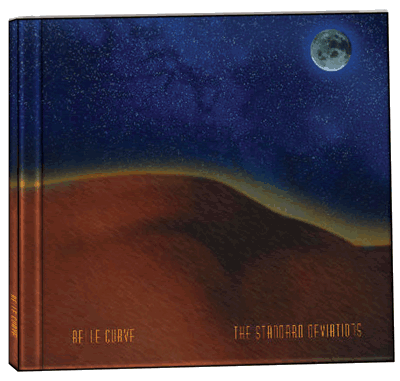 MAIL ORDER SPECIAL FOR MAY/JUNE

Our first CD Belle Curve
Please contact us directly with your order



Tracks include: 1. silent no more 2. coming out blues
3. please don't call 4. wake with me 5. if I seduce you 6. triage 7. accolades 8. room of two 9. silent no more (acapella)
Belle Curve is a" triumphant…irresistible…a CD full of winners…both (Leonard) Cohen and Spike Milligan would love it, I venture" SCALA News